WELCOME to the KAROHS International School of Handwriting Analysis
One of the world's leading graphology courses
---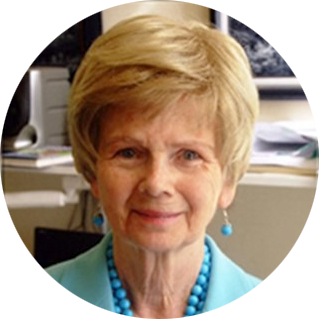 Hi, I am Dr. Erika M. Karohs,
CEO of the KAROHS International School of Handwriting Analysis®
These are my promises to you: We will always serve you with integrity. I have been in the handwriting analysis business for over 30 years. We are not fly-by-night company, we don't rip off customers, and we don't make undeliverable promises. Also we will not "sell" you a diploma as a "Certified Handwriting Analyst" for a one day workshop, just so we can make a fast buck. We won't promise you that you can learn handwriting analysis in 10 minutes a day and we honestly can't and neither can anyone else (despite of what they are trying to tell you). 
---
An extensive collection of books and ebooks for learning graphology, effective analysis writing, and marketing your business.
Five levels of diploma certification courses from the KAROHS International School of Handwriting Analysis
---
---
---
The KAROHS International School Of Handwriting Analysis® offers five levels of diploma graphology courses:

Years of it establishment
The number of our registered students since 2012
The number of countries we serve
Our Certification courses are taught in 2 tracks:
Home Study (international distance learning) program for students worldwide
Home study (international distance learning) program for students worldwide on their own with constant email assistance available. Enrolled students are entitled to send their course related questions to us at any time and can expect an answer within 72 hours. So it is as if they constantly have a tutor right by their side. Each course includes tests that students have to submit to the KAROHS International School of Handwriting Analysis®. Upon completion of the course students submit their diploma test for grading. Successful graduates will be notified by email and will receive their diploma via postal mail. Home study students order the courses through our "Orders" web page. Upon processing of the order, study material will be send within 72 hours via EMS from Bandung Indonesia.
Each individual step is clearly explained in the "Study Guide" that is included with each course.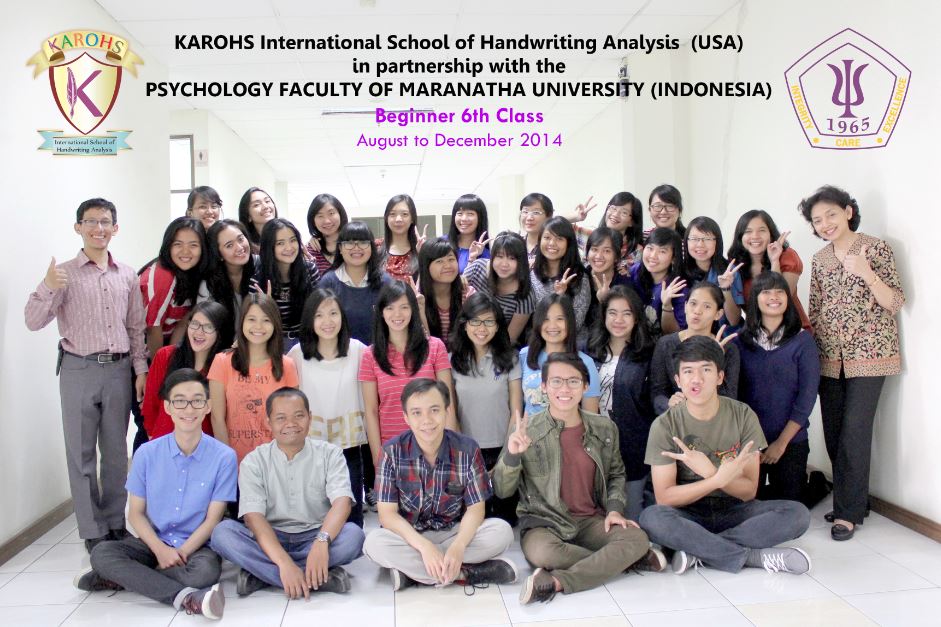 Starting with the Spring semester 2013, the KAROHS International School of Handwriting Analysis® courses are being offered through the Psychology Department at Maranatha University in Bandung, Indonesia.We are very pleased and honored that after a rigorous selection process, our courses were chosen for inclusion into University curriculum. Courses are taught by Mr. Syibly Avivy A. Mulachela, M.Psi., CMHA., our own Director of Training and Continuing Education. Students receive classroom teaching for about five months (approximately 12-14 sessions) per course. Information is available at KAROHS – University Program
>> 2014 to 2016 Expanded to the Three Classes <<
---
Why should you study with us?
We teach what we do….
Our teachers are practicing graphologist, and they are very busy. This means that you will gain relevant and practical knowledge from  graphologists who work in the field. They will teach you exactly what they do, not some hypothetical material without practical money-making experience to back it up. Dr. Karohs has worked for over 30 years as a practicing, money-making graphologist. Her handwriting analysis books and study courses go way beyond theory.
As you learn graphology, you can rely on our support every step of the way.
Students from other schools often tell us how frustrated they are because their teachers are unavailable. In contrast, we will be by your side every step of the way. As soon as you have course-related questions, you can send us an e-mail and expect an answer within 72 hours. A Question/Answer form is included with each course.
Our courses are studied by students from more than 45 countries around the world.
We have students enrolled from the US, Canada, Mexico, Brasil, Argentina, the U.K., Belgium, Germany, Poland, Italy, Russia, Norway, Sweden, Indonesia, Graphology courses in India, South Africa, France, Australia, Czech Republic, Malaysia, Singapore, Switzerland, United Arab Emirates (UAE), Israel, Ireland and many more.
Our courses differ from other courses
They are for students who don't want courses that … > are copied from other courses that are copied from other courses that are copied from other courses… > are all hype, marketing, show, and PR nonsense; > are taught by "teachers" arrogantly posturing in advertisements while lacking substance, experience, sincerity, and genuine concern for the students, and who use empty promises to make a quick buck for themselves. Our teachers either have an M.A. or higher degree in psychology. It is a requirement for anyone teaching at the KAROHS school.
Our courses and books are based upon sound graphological principles.
Unlike with some other courses, all course manuals are written by Dr. Karohs, word for word. They are not copied piecemeal from other courses, nor do they duplicate other training programs.
Dr. Karohs has studied at renowned institutes of higher learning in Germany, at the prestigious Psychological/Graphological Institute in Zurich, Switzerland, and the Monterey Institute of International Studies. She has also studied every worthwhile course in the U.S., including the San Francisco Academy of Handwriting Analysis course, the Pychogram courses, the tIGS course, the "Equal Weight Scoring Criteria" and, yes, both IGAS courses. As you can see, she is well familiar with the handwriting analysis courses being offered today. For more than 40 years she has done diligent research. She traveled more than 40 times to Europe to obtain research material including from countries formerly behind the Iron Curtain. She has in her possession books and research material that is no longer available anywhere. The results of her lifelong research and her diligent studies are clearly reflected in the quality and depth of her works. She has written more than 70 books on the subject of handwriting analysis, including a 30-volume Encyclopedia of Handwriting Analysis.
---
If you are truly motivated, we promise you that with our study materials you will become a competent professional graphologist and get paid for it. Guaranted !!!
---
Look what our students are saying
aying
Hi Erika, I just had to express that your courses are very well done and quite detailed.  The last two courses I had gone through about 10 years ago does not even compared!  I will email as questions arise as I go through the programs.  Thanks. Christine
Christine
To anyone considering taking courses through the International School of Handwriting Analysis (ISHA), I would highly encourage you to do so!  I have completed Erika Karohs' Comprehensive Course and am now embarking on her Evaluated Traits and SSS courses.  I can say first-hand that she is an outstanding instructor, and her programs are extremely thorough, offering breadth and depth in an organized and efficient manner.  Additionally, she offers extensive supplements and even marketing information to kick-start your own business in the field.  I am benefiting so much from my education that I already have clients lined up and waiting for professional analyses!  Let me explain how ISHA courses excel.  I distinguish three important variables in considering a remote-learning program.  First, I consider the quality of the course materials and the overall course layout.  Does it offer the right information; is it extensive and rigorous; and is the course presented in a clear and effective way that encourages maximum comprehension?  Secondly, since it is self-managed, I evaluate how well the course allows the student to navigate the materials in an autonomous fashion.  Does the student know where to start; what to study and how; and when and how to take the needed tests?  Finally, I weigh very heavily how good the communication is with the instructor.  Can she be easily accessed; is she receptive to questions and requests for assistance; and is she genuinely interested in the student, or did she just want a quick sell and is never to be heard from again? I can say with great confidence and gratitude that Ms. Karohs and her program achieve high marks across all of these considerations.  I give ISHA the highest recommendation and would be happy to serve as a reference to any potential students.
Julie Jablonski, 2014
But enough of the introduction. Why don't you come in and find out for yourself?

---