MASTER Course of Handwriting Analysis
---

The Master course replaces the Step-by-Step System of Handwriting Analysis ("SSS" course).
Important Notice: Prerequisite for enrollment in the Master course is successful completion of the Comprehensive Course.
The Master Course was designed with professionals in mind. It is for elite corps of dedicated analysts with the intelligence and curiosity to comprehend this unique system. It is for bright, intelligent individuals who are excited and enthused about delving as deeply as possible into graphology and who want to use the science in a businesslike and profitable way.
Master Course – The only integrated system
The Master course is the only course that integrates the trait stroke method with the following aspects of the Gestalt system:
the contraction-release system originally expounded by Klages;

Pulver's theory of depth as an unconscious expression of the writer's psychic and physical energy;

Saudek's thesis of writing speed as one of the foundations upon which other data rests.
Based upon the above theories, the SSS analyzes four major components of handwriting, namely:
vertical movement

horizontal movement

form and

depth
The Master course is not alone in utilizing the above theories. They are incorporated to a greater or lesser degree in most contemporary graphological schools.
The Master course, however, combines all of these fundamental theories in one logical system.
The Master was inspired by the principles of Otto Junge's "Rational Graphology" in that it is based upon objective measurements and ratings and assigns equal quantitative weight to each handwriting component.
The Master differs from Rational Graphology in that it is more systematically organized. Junge designed 100 "Expression Tables" and evaluated between ten and twenty variables for one personality trait. The various traits were grouped in five syndromes with the smallest syndrome containing five and the largest encompassing forty-two characteristics. The Master consistently evaluates ten components per trait. The traits are then grouped in eight syndromes of five traits each.
The Master is designed in a logical sequence so that by executing six steps the analyst automatically produces an accurate, objective analysis every time.
Why the Master course? Because…
The Master course gives you the deepest possible insight into the personality

By combining the trait stroke and the gestalt methods into one unique system, It is a one-kind of a course that, to our knowledge, is not available anywhere in the world

The Master course is the only course that comes with a…
FREE 4-volume set of bonus books on measuring

FREE extra volume with trait descriptions – you will never run out of things to say in an analysis

FREE support program

FREE diploma (upon fulfillment of diploma requirements)
The Master course is taught by a practicing graphologist with a Masters degree or a Ph. D. in psychology and advanced knowledge about the course. At the KAROHS International School of Handwriting Analysis®, a degree in psychology is a MUST for ALL trainers.
The Master course system is easy to learn
Although this is a complex course, it is organized and in such a way that it is easy to learn. It is designed in a logical sequence so that by following three steps, the analyst automatically produces an accurate, objective analysis every time.
With the Master course you get everything up front
Most handwriting analysis schools will send you one lesson at a time. That means that if at some time you have to temporarily interrupt your studies, you will get no lessons during that time.
And if, for some reason you have to quit the course, you will never get the rest of the materials, even though you paid for them. With the Master course, you get all books, study materials, tests, model answers and bonus books up front.
As soon as your order has been received and processed, everything is shipped to immediately. We keep sufficient stock in our warehouse that we can mail you the whole BIG package without delay. This means that within a few days you can start your lessons.
The Master Course takes the pain out of writing the analysis
Many analysts find report writing the most difficult part of handwriting analysis. They have carefully measured, scored, or rated the handwriting sample, but when it came to actually writing the analysis, the proper word or correct phrase simply would not come to you?
With the Master course of Handwriting Analysis, analysts no longer have to search for appropriate descriptions and phrases. You have to do no painful report writing of your own.
All definitions are provided in the following books:
two BIG volumes of trait descriptions

one more book with "More Trait Descriptions"

one book with advanced descriptions

four volumes of descriptions for measured indicators
Books and study materials:
PART I of the Master Course:
Book One:
Getting Started: A Guide To Using The System
This book leads you in a step-by-step manner through the course.
Book Two:
Scoring Guide
This book lists all handwriting indicators to be scored.
You simply move in the Scoring Guide from one item to the next and check off the appropriate items on the Score Sheet.
Book Three:
Sample Scoring Pages
This book is used in combination with Book One: Scoring Guide.
It gives you explanations and illustrations for all indicators.
Most analysts use this book only for a limited time.
Once they are familiar with the indicators, they no longer have to refer to the sample illustrations.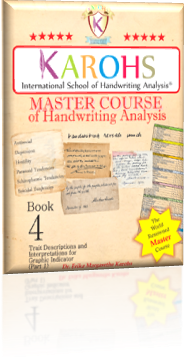 Book Four and Five:
Trait Descriptions
These two books give you comprehensive descriptions for all personality traits on the Master course Trait Inventory.
Since each trait is determined through ten different indicators, each analysis will be unique, no matter how often the descriptions are used. It is almost impossible that the same combination will occur twice.
Book Six:
More Trait Descriptions
This 200 pp. volume gives you many more ways to write the analysis
Book Seven:
Measuring Guide and Measurement
Most analysts seem to agree that measuring indicators is the least liked aspect of handwriting analysis. The Master Course keeps measuring to an absolute minimum, but for the sake of accuracy a number of indicators have to be measured. Book Seven explains in detail how to take each measurement.
 PART II of the Master Course: Advanced Section 
Book Eight:
Uncovering the problem personality
Book eight teaches you how to analyze:
the antisocial personality

depression

hostility

paranoid tendencie

schizophrenic tendencies
suicidal tendencies
Book Nine:
How To Analyze Printing
Analyzing printing tends to be one of the most difficult tasks for many handwriting
analysts. In fact, many of them are so intimidated that they refuse printing and insist upon a cursive sample for analysis. But this can result in an erroneous picture of a writer's personality. If the habitual printer is "forced " to produce cursive writing, the sample is usually is very immature and childish looking. Felix Klein, a renowned graphologist, said about people who have printed for years that their personality has become "stuck" at the age at which printing became habituated."
Printing is not really difficult to analyze. Most of the rules that apply to cursive writing are applicable to printing. With some practice, you should be quite comfortable with analyzing printed script. I hope that this booklet will help to make it easier for my students and graduates to interpret both cursive and printing for their clients.
16 Lessons with model answers
The course includes 16 Lessons with model answers.
Students may use these lessons to test themselves or they may submit them for individualized comments and corrections.
Course Organization
---
The Master course of Handwriting Analysis is organized in logical sequence, It starts with scoring the writing and leads the student in 3 steps to the finished analysis report. "Book One: A Guide to Using the System" explains each individual step.
Step One: Scoring the Score Sheet
For each trait, handwriting analysts follow the "Book One: Scoring Guide" and score ten indicators. 
This makes the system very accurate. Most importantly, each analysis is truly a description of an individual rather than a general report. The score sheet is only for reference by the analyst.
Step Two: Entering Scores on the Personality Trait Inventory
Trait scores are transferred from the score sheet to the Personality Trait Inventory, which lists the 40 traits clustered in 8 syndromes.
The eight syndromes are:
Driving Forces

Intellect

Functional Ability

Interpersonal Relations

Productivity, sexual desires

Vulnerability to Stress

Defenses

Problem Areas, sexual fears
Each syndrome contains 5 traits for a total of 40 personality characteristics.
The Personality Trait Inventory is included with the analysis report for the client.
Step Three: Writing the Handwriting Analysis Report
For the report, analysts use "Book Four" and "Book Five: Trait Descriptions and Interpretations for Graphic Indicators."
These books contain detailed definitions for all traits and graphic indicators.
To write an analysis, analysts no longer have to search for appropriate descriptions and phrases. And since the combination of indicators for each individual is different, reports will be different, too, no matter how often the descriptions are use.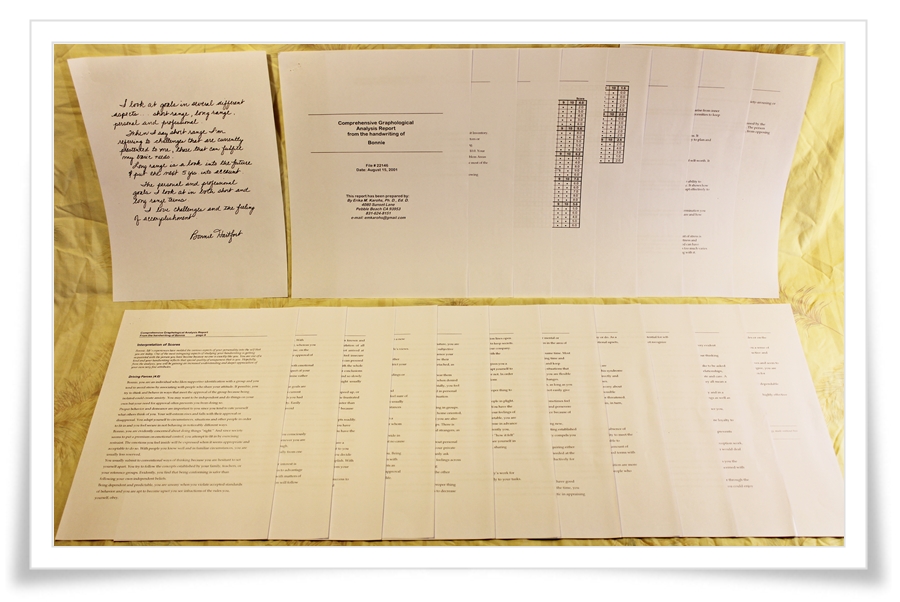 Bonus Books :
FREE 4-volume set of Measurement Guide

With the course, you will receive free the four-volume set of Measurements In Handwriting Analysis With Comprehensive Interpretations For All Measurements. This set sells for $ 114.00 and has recently been revised and reprinted.
It contains:
detailed measurement tables for all measurable indicators in handwriting;

3 volumes of comprehensive explanations for all listed indicators (letter height, length, and width, word and letter spacing, width of margins, slant, pressure, zonal ratio, etc.)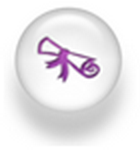 Student Support
With all our courses, students are entitled to FREE e-mail support.
A "Question/Answer" form is provided with each course. 
FREE Diploma
Upon completion of the course, students may submit the Certification Test for the diploma as "Certified Master Handwriting Analyst, CMHA". (Certification test is included in instructional materials package). There is no extra charge for the diploma.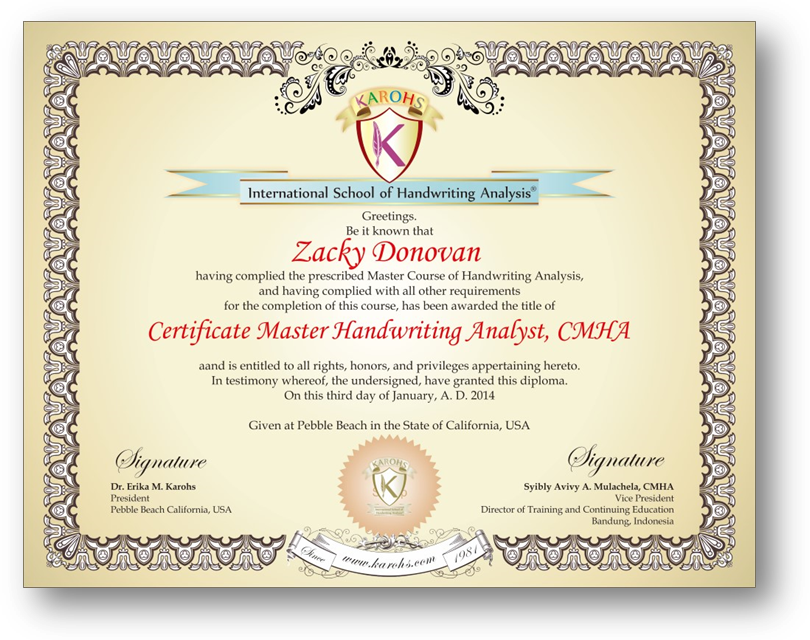 Important notice for home study program students! The Karohs International School of Handwriting Analysis is not an accredited school and there is currently no official licensing agency for graphology; therefore, diplomas are not officially accredited. The diplomas issued by the KAROHS International School of Handwriting Analysis® certify that graduates have successfully completed a study course and have complied with all the requirements for the completion of the course.
Because Dr. Karohs is recognized as a one of the world's foremost graphologists and her courses are unquestionably unmatched by other courses currently available, diplomas issued by the KAROHS International School of Handwriting Analysis® and graduates trained by Dr. Karohs are highly esteemed both in the graphological and corporate world.
Important notice for University program students! The diplomas for university program students will be issued by the KAROHS International School of Handwriting Analysis® in unison with Maranatha University.
How much is it?
Previously the SSS course (which is now replaced by the Master Course) in printed version was available for $1997 + $30 shipping charges for a total of $2027!.
Compare this to the Master Course!
Not only is Master Course is greatly improved, updated and reprinted – and we are also offering it at a MUCH lower price for Only $1297 !
And the shipping is FREE!!
No matter where in the world you live – yes, postage is FREE!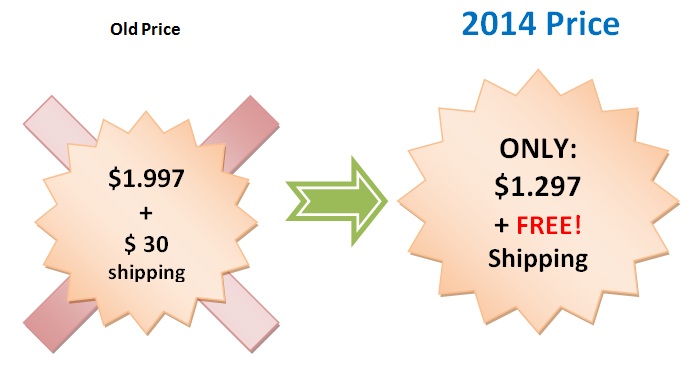 SHIPPING
As soon as your order is processded, the books and study materials will be shipped within 24 hours of ordering via EMS postage mail.
This means that you can start your studies within a few working days!
Even GREATER SAVING with the "package deal"
With our special "package deal," you will get an even better price! Click here:
SECRET Information about SPECIAL PRICE
Special "appreciation discounts" for members of law enforcement and Armed Forces
An increasing number of members of the US Armed Forces and law enforcement are enrolling in our study courses. If you are interested in enhancing your professional effectiveness through knowledge of handwriting analysis, or if you have a personal interest, please contact us via email. To show our appreciation for the service they rendered to their country, we are offering a special "appreciation discounts."
If you are a peace officer who retired due to duty related causes or if you are a disabled veteran, please mention this.
Special "Spouse or Partner" Offer
To help spouses or partners who want to go into professional practice together, we offer a "Spouse's" or "Partner" program for the Comprehensive and Master courses. There is a $100 charge for the secondary student to be paid at the time the order is placed.
Personal information about the secondary student has to be submitted at the time the order is placed.
The partners would share the books and study materials.
The secondary student has the same rights and privileges (diploma and support) as the primary student.
Extra bonus: If the primary student enrolls in the Special Pack A (Comprehensive and Master's Course), the secondary student (spouse, partner) pays only $200.
THIS PRIVILEGE IS LIMITED TO ONE OTHER PERSON. WE RESERVE THE RIGHT TO WITHDRAW THIS PRIVILEGE AT ANY TIME.
Still not Convinced?
Well, here's what real people just like YOU have said:
Greetings Erica: 
I hope all is going well with you. Recently, I took the AAHA's Associate test examination which was evaluated by three judges/evaluators. AAHA informed me that I successfully passes the exam. Part 1 with a score of 97 and Part 2 reflecting a score of 95. The exam was challenging. I used your SSS course and it yielded some impressive findings. Again, thank you for your dedication throughout your career as you became a lighthouse to many others who are on their journey. Remain Well, David
David
"Your course is everything I had hoped for… times 10!"
"Hi Erika, Now that I am halfway through, I want to tell you how absolutely "blown away" I am by the SSS course and your amazingly complete and comprehensive materials. It is everything I had hoped for…times 10!
I know that when I have completed this course, I will be ready, able and, most importantly, truly confident in doing the type of professional analyses that I dreamed of. Thank you!
I would be honored to have you use my quote (with my name) as a testimonial for the SSS course. your course is one of the very few things I feel strongly enough about to put my name on the line!"
Sally Haugen
"It is not as difficult as I initially thought it was going to be."
"I am very proud to say that I've finished my first report with the SSS course! Yeah!!! It is not as difficult as I initially thought it was going to be. Perhaps it was just the brilliant way in which you explained how one should go about doing the analysis, that did the trick. Thank you for a wonderful course."
Anzel Gerber
It may be the be all and end all for graphology courses."
"Erika, I definitely think I made the right decision in buying your course. I'm beginning to get the idea that it may be the be all and end all for graphology courses. Wow! I like having all the measurements which to my way of thinking makes the analysis less subjective to opinion and just work with fact. Also, I'm very pleased with how quickly you respond to my emails."
"The Step-By-Step Course is excellent. In the last month, I have done eight comprehensive analysis reports and the feedback from the subjects has been excellent. Your method has enabled me to accurately analyze these subjects with a high degree of accuracy."
Don Blois
"Your SSS course does more than educate."
"Erika, I was just working on lesson 11 and I have to stop and send along this compliment. I have collected and read a plethora of books on handwriting analysis (this has been an interest of mine since I was a teen) but I've never felt confident that I could do an analysis "right" because a lot of the instructions were too subjective (i.e. "hang the sample on a wall upside down and look at it from a distance then record how it makes you feel" or "no need to measure slant, with some practice you can eyeball it…"). Or worse they were vague and unclear. I've often said to myself something like, "That's an arcade? I could have sworn it was a garland. Wait a minute… do arcades only run along the top… can you have them both together… aaaaargh!" So I have to tell you that I really appreciate all the work you've put into creating volumes of examples and clear, concise, and thorough explanations. I can check and then double check. I can cross-reference to my heart's content.
I just love being able to find all the information I need right at my fingertips, and in such an easy-to-use format! Your SSS course does more than educate me… it instills confidence and a much-appreciated feeling of professionalism. I just had to tell you that I really appreciate the amazing amount of work you've put into this course. I love this course! I almost don't want to be finished with it… I'll miss my studies :)"
Francine Morrissette
"Erika, Thank you so much for your teaching. It's hard for me to really convey to you how valuable your Step-By-Step course is. Your reference material that is truly rare in nature gives me the ability to work hard, make money, and have fun at the same time. You are such an amazing woman. Thank you, Erika."
Greg Whitaker Certified Master Handwriting Analyst
"Erika, I want to thank you for all your help with the SSS. You always answered my questions quickly and you have made me feel like I am your only student (how do you do that???); I appreciate that!"
Francine Morrissette
"The SSS course is really excellent and I can see that you must have put endless hours into its development."
Susan Copperdale
"Erika, I recently completed your book,"How to Make Your Handwriting Analysis Sell" (a bonus book with the SSS course). It is by far the best book that I have read on how to get started. You have given me every tiny detail, things that I would have not thought of until much later. I have been following your words of wisdom and I am very proud to say that my business is well on the way. I look forward to actually turning my skill into a productive business. Thank you so very, very much for your help. Thank you for sharing your trials and errors with us and letting us know about pitfalls. Thank you for making sure that your students understand the ins and outs of this career and making sure to hold us to a higher standard. A very ethical standard."
"It was nice to know that the fee you charge for the course is all inclusive, and that the diploma is not an extra fee. And what a lovely diploma it is."
Cathryn Tharp Brocker