Beginners Diploma Course of Handwriting Analysis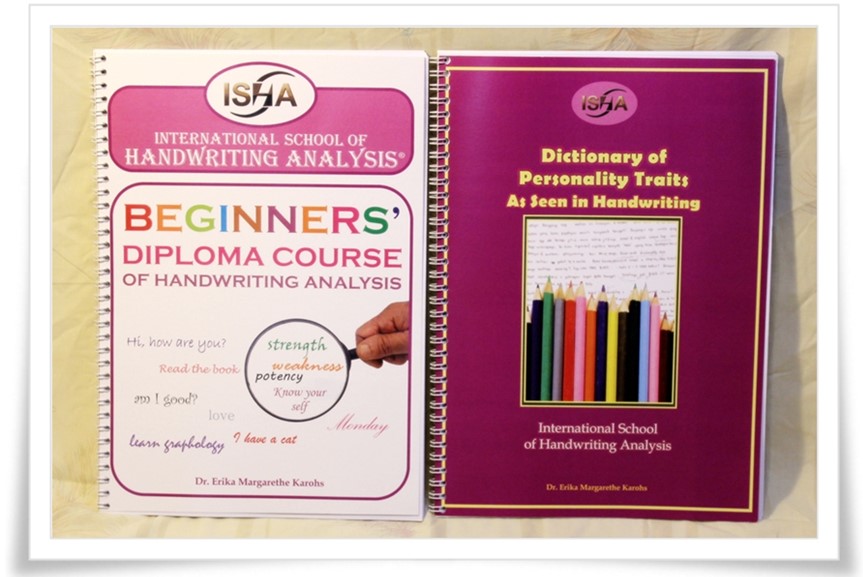 Many people are interested in handwriting analysis but don't want to enroll in a full-fledged study course right away. The Beginners Course is a perfect way to become familiar with the fascinating science of handwriting analysis. It teaches 40 personality traits – enough to gain personal insight into yourself and, on a basic level, to "read" other people's writings.
Course Materials for the Beginner Course
Beginners Diploma Course Manual

Dictionary of Personality Traits

Self Tests Manual

Profile Analysis Work Sheets

Model answers

Online Support Form

Final diploma test
The Beginner Course of Handwriting Analysis is taught by a practicing graphologist with a Masters degree or a Ph. D. in psychology and advanced knowledge about the course. At the KAROHS International School of Handwriting Analysis®, a degree in psychology is a MUST for ALL trainers.

BONUS !!!
As a bonus, students will receive the book,"Dictionary of Personality Traits".
Most students have to refer to their course manuals for the illustrations and definitions of personality traits. This means that they have to turn on their computers or spread out two large volumes on the table just to check a certain personality trait.
The dictionary decrease the time to check on traits.
The Dictionary describes and illustrates 133 basic traits. It is the perfect reference work. If you are doing an analysis, just open the Dictionary and in no time you will have identified all of the traits in your handwriting sample. Illustrated.
This Bonus books original price is $29
Report Example
In Beginner diploma course of handwriting analysis, you will learn how to make a brief report as example follow: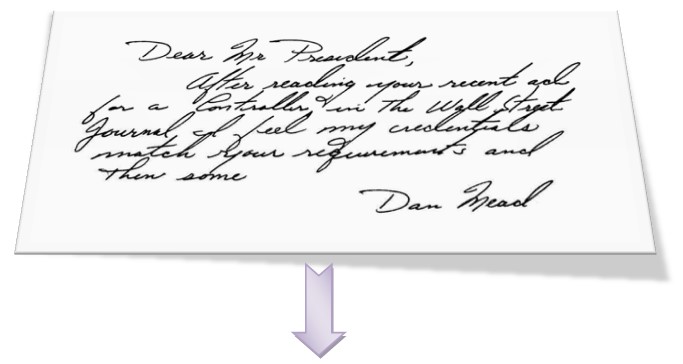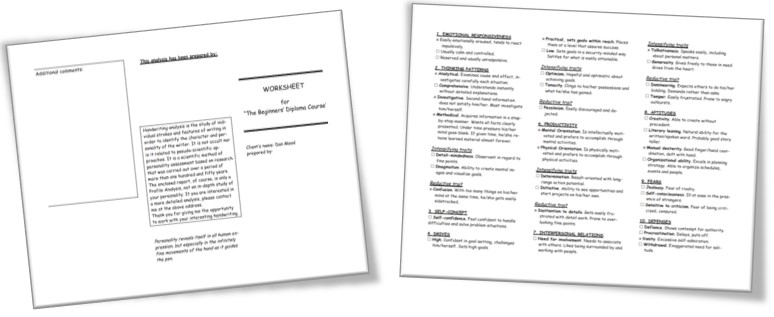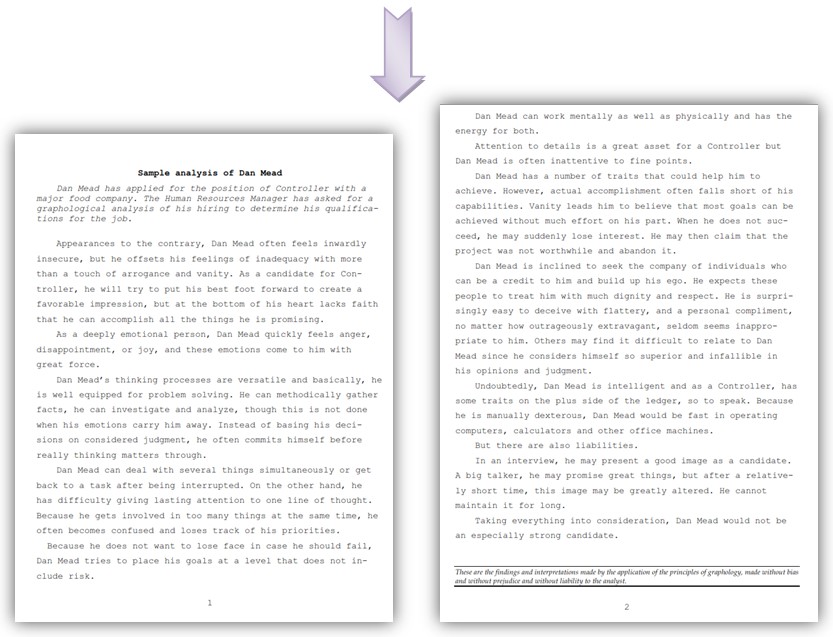 Beautifully Bordered Diploma with the ISHA Golden Seal
Some handwriting analysis schools charge hefty sums for their diplomas. With Dr. Karohs' courses, there is never a charge, even if you have to repeat the diploma test a second time. Grading your diploma test and issuing the diploma is part of the service she is committed to.
Upon successful completion of the course, students can send the final test to the school for a diploma.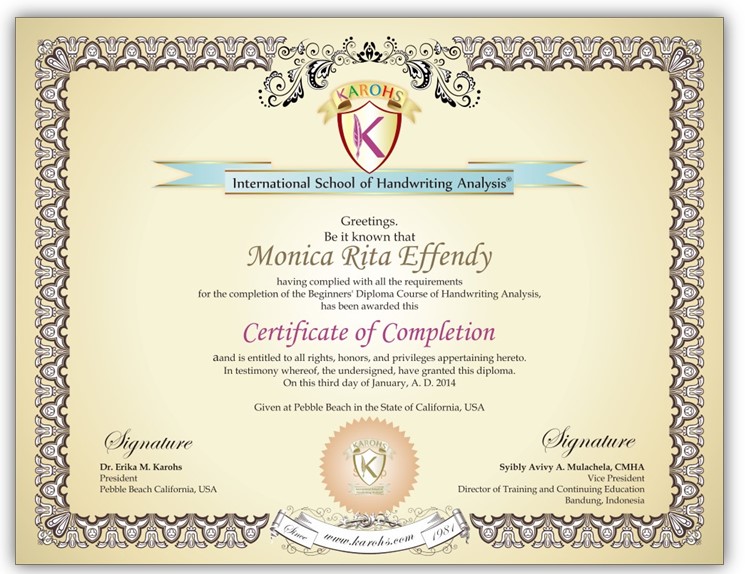 (With its beautiful border and golden seal, printed on heavy parchment,
the diploma looks actually much prettier than on this web site)
Important notice for home study program students! The Karohs International School of Handwriting Analysis® is not an accredited school and there is currently no official licensing agency for graphology; therefore, diplomas are not officially accredited. The diplomas issued by the KAROHS International School of Handwriting Analysis® certify that graduates have successfully completed a study course and have complied with all the requirements for the completion of the course.
Because Dr. Karohs is recognized as a one of the world's foremost graphologists and her courses are unquestionably unmatched by other courses currently available, diplomas issued by the KAROHS International School of Handwriting Analysis® and graduates trained by Dr. Karohs are highly esteemed both in the graphological and corporate world.
Important notice for University program students! The diplomas for university program students will be issued by the KAROHS International School of Handwriting Analysis® in unison with Maranatha University.
Upon successful completion of your diploma test you will receive a notification via email and your diploma will be mailed to you within eight weeks. In the unlikely event that there should be any problems with the diploma, you have six months from the date of the notification to send a request for rectification. Once that deadline has expired, the diploma will be presumed as delivered. If a diploma has to be re-issued because of faulty information by the graduate (name, address etc.) there will be a $15 re-issue charge.
Comprehensive, Personalized Support

With all our courses, students are entitled to FREE e-mail support. A "Question/Answer" form is provided with the course.
Student Questions and Answers 2014:
To help our student with their studies, the KAROHS International School of Handwriting Analysis® is offering full e-mail support.
To avail yourself of this service by our highly trained support staff please observe the following rules:
Use the downloadable Question/Answer form here:

Follow the rules on the Question/Answer form implicitly. Disregard will delay or void getting an answer to you.

Send your request to the following e-mail address: support@karohs.com
This privilege is for enrolled students only. Do not write if you are not an enrolled student; your questions will not be answered.
Our Question/Answer support is a voluntary service offered by the KAROHS International School of Handwriting Analysis®. It may be discontinued without further notice at any time.
Affordable Course Cost
Full price for the Beginner's Diploma Course is only $197.00 (Shipping : $12 FREE !!!).
If you are eager to get started on this exciting course, APPLY NOW 
The books and study materials will be sent to you promptly via Indonesian EMS priority mail.
This means that you can start your studies within a few working days!
Quick Link:
FAQ (Frequently Asked Question)  Price Information  Registration Process : How to Enroll  TESTIMONY : What Student Says about the Courses   Back to COURSES Information   
See detail courses programs (click the image below):
Copyright © 2014 the KAROHS International School of Handwriting Analysis®. All rights reserved.
No image or portion of this website may be copied or reproduced without written permission.