Dr. Erika Margarethe Karohs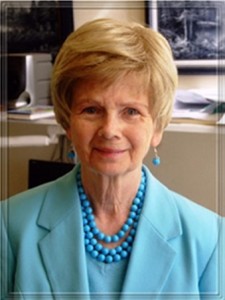 Dr. Erika M. Karohs is Professor Emeritus at Monterey Peninsula College and has been a practicing graphologist for over 30 years.  She is a lecturer, author, and works as handwriting analysis consultant for international corporations.
Dr. Karohs has given presentations about graphology to many professional organizations, among them the Sales and Marketing Association of America,  Sales and Marketing Executives International, the Financial Institutions Marketing Association, Life Office Management Association,  the Savings Institutions Marketing Society of America, etc.
Dr. Karohs studied at the Pedagogical Institute in Quedlinburg, Germany, the Graphological / Psychological Institute in Zurich, Switzerland, at UC Davis, Chapman College, and at the Monterey Institute of International Studies. She also studied at the San Francisco Academy of Handwriting Analysis; she successfully completed Leslie King's Equal Weight Scoring Criteria courses, she is a graduate of both courses of IGAS and of Handwriting Analysis Workshops Unlimited.
She holds a Master of Arts degree in languages, a Master of Arts degree in political science and doctoral degrees in psychology and education.
Dr. Karohs developed 5 graphology certification courses, among them the world-famous Step-By-Step System of Handwriting Analysis course (SSS) Her courses have been accepted for inclusion into the psychology department curriculum at Maranatha University and are also being studied by students from 22 countries around the world. She has written more than 70 books on the subject of graphology among them the 30-volume Encyclopedia of Handwriting Analysis, Hiring the Best Candidate Every Time, The Good versus the Bad Credit Risk, the Analysts' Handbook, the Handwriting Analysts' Companion, the Occupational Trait Inventory, Basic and Evaluated Trait Dictionaries, I HATE Evaluated Traits But This Book Makes Them EASY, Personality Traits At A Glance,  the "Inner Circle Papers," etc.
Dr. Karohs has also developed the powerful Grapho-Cybernetics program and "Grapho-Cybernetics Puts You In Control Of Your Game – A Self-Modification and Ambidexterity Program for Golfers." This one-of-a-kind program has been featured in the April 2001 issue of "Maximum Golf."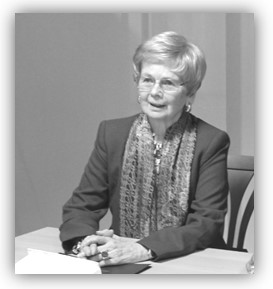 History of KAROHS International School of Handwriting Analysis
During her studies as a teacher in Germany, Dr. Karohs was introduced to graphology. At that time, in Germany, graphology was at is zenith, classes
were taught at renowned universities, and handwriting analysis publications abounded in bookstores.

From 1951 to 1955, Dr. Heinrich Pfanne, renowned German graphologist, lectured in various parts of the former East Germany. In the city of Rudolstadt, close to Dr. Karohs' hometown of Ilmenau, he published his famous "Lehrbuch der Graphologie" and another volume "Wesen und Wert der Graphologie" (Essence and Merit of Graphology). Dr. Karohs was fortunate to hear several of his lectures and to this day, she says, is still deeply impressed by his passion for the field and his dedication to graphology.

Her love for graphology has stayed with Dr. Karohs throughout her life and, even while not officially involved in the science, she continually pursued her studies through various classes and self-studies.
In 1975, while still working as a German teacher and department head at Monterey Peninsula College, Dr. Karohs started working as a part-time graphology consultant to several businesses.
At heart a true German, Dr. Karohs has a very disciplined work style and likes for things to be well structured and organized. Since, at that time, she could not find an organized analysis system to suit her purposes, she developed her own, including work sheets, client analysis forms, etc. She soon started teaching informal graphology classes and lecturing, and in 1976, she published her first book "Handwriting Analysts' Profit Guide," which, interestingly, today is being sold as a classic on eBay.
In 1978, still using a Selectric typewriter and boxes and boxes of file cards, Dr. Karohs started the now world-famous Step-By-Step System of Handwriting Analysis (SSS). She researched for and worked on this project and its many revisions for nearly 20 years.
With the advance of the Internet the popularity of Karohs courses grew immensely. Over the next years, Dr. Karohs added the 4 more courses, followed by more than 70 books on the subject of graphology.

Dr. Karohs' courses became known simply as the "Karohs  courses" until in 1981, ISHA,  the International School of Handwriting Analysis® was officially founded. By then, students from 22 countries around the world were studying Dr. Karohs' courses and reading her books.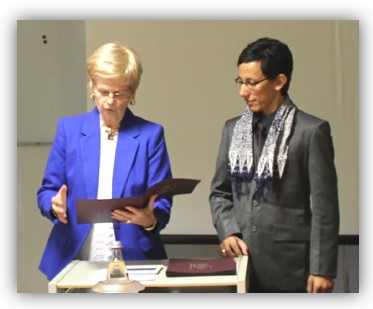 In 2008, an Indonesian student "Aviv" enrolled in the Comprehensive and SSS courses. With each module test, he would include some novel suggestions, or propose creative changes for some parts of the courses. Not surprisingly, he graduated with highest honors and in 2012, Dr. Karohs asked Mr. Syibly Avivy A. Mulachela ("Aviv") to take over the fledgling Indonesian program and become an ISHA representative.
That day was a milestone in the history of ISHA. Aviv quickly rose through the ranks from Customer Contact Center Representative to Director of Training and Education. Today, as Vice President of the KAROHS International School of Handwriting Analysis® Mr. Aviv is actively involved in all the decision making processes at the school.
Through the combined efforts of Dr. Karohs and Mr. Aviv , ISHA, started growing at a pace that is leaving the graphology world in awe.
From the outset, it had been Dr. Karohs' dream to see graphology move from being a home study subject back into the universities and take its respected place in the academic world and into the psychology department curriculum.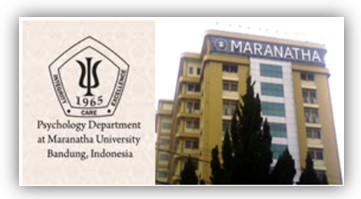 In 2012, ISHA courses were accepted as part of the curriculum of Maranatha University in Bandung, with other universities showing great interest in similar programs. Through a rigorous selection process ISHA courses had been selected as the only ones worthy of being taught at the university.
Within one year, the university program grew from one class to three classes per semester with further expansions on the horizon.
In September 2013, the first ISHA International Commencement exercises were held in Germany. Among the graduates were eight faculty members from renowned Indonesian universities.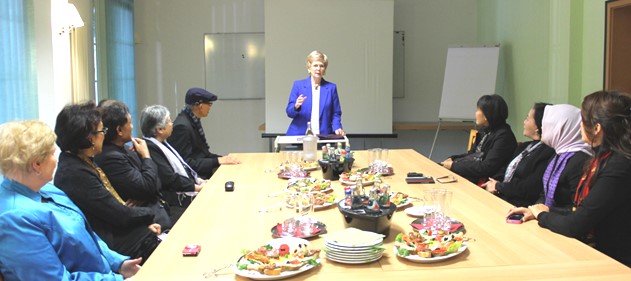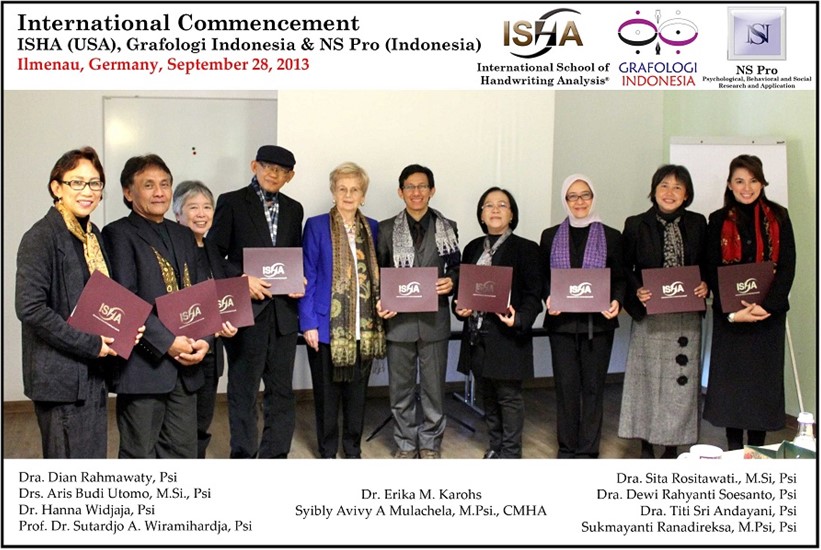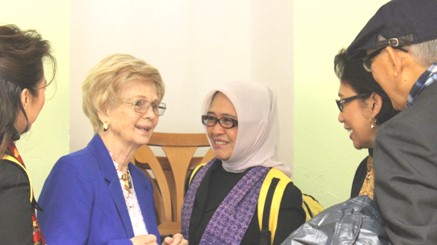 ---

In 2014, ISHA was officially renamed "KAROHS International School of Handwriting Analysis" with President Dr. Karohs and Vice President Mr. Aviv at the helm.
It is the firm belief of Dr. Karohs and Mr. Aviv that the developments in Indonesia will soon begin to impact overall graphology training as well as the demands of the business world regarding graphologists' qualifications. Thanks to the Internet, within a very short time, these highly trained, university-educated young professionals will enter the market word-wide and imprint their standard of Grapho-Psychology upon the field and thereby make it clear that the entertainment-oriented type of handwriting analysis will no longer suffice.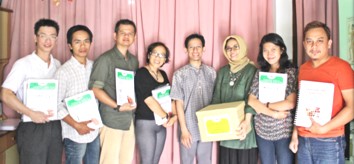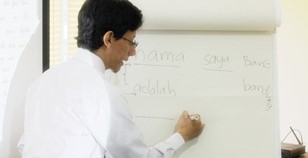 While much of the school's interest is centered around the developments in ASIA, the school is growing steadily in many other parts of the world. The rapidly growing "graduate list" on our website bears testimony.
---
Development of the Karohs International School of Handwriting Analysis Worldwide
KAROHS presence in GERMANY,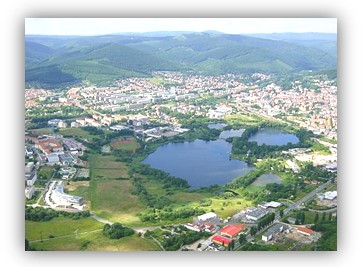 On September 28, 2013, our first International Commencement was held in Ilmenau, a small historical town nestled among the mountains of the Thuringian Forest, also called "the green heart of Germany."
Among the graduates were 9 faculty members from the Psychology Departments of three Indonesian universities.
KAROHS courses in INDONESIA,
On our homepage, we already mentioned the inclusion of ISHA courses into the curriculum of the Psychology Department of Maranatha Christian University in Bandung, Indonesia. Since developments in Indonesia are progressing so quickly from now on, we'll report on a special page about these exciting happenings.
69 graduates from first ISHA-University class

We are very proud of the sixty-nine graduates who received the ISHA-Maranatha diploma for having successfully completed the first ISHA-Maranatha University graphology class.
28 students graduated from the Beginners' class at the end of the first semester
31 students graduated from the Beginners' class and 10 students graduated from the Comprehensive class at the end of the second semester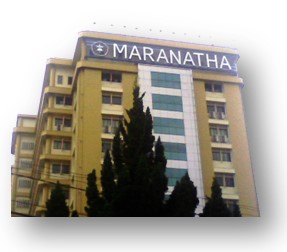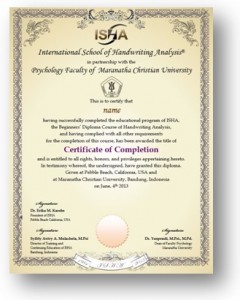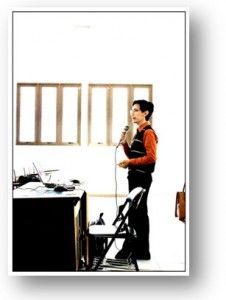 All classes have been taught by Mr. Syibly Avivy A. Mulachela, the KAROHS school's own Vice President and Director of Training and Continuing Education ("Aviv"). Aviv himself is a graduate of Padjadjaran University with a Masters Degree in Psychology.
Information about the ISHA/Maranatha graphology program is available at: www.grafologiindonesia.com. You can also contact the University at www.psikologi-maranatha.com .
Expansion of ISHA/Maranatha University program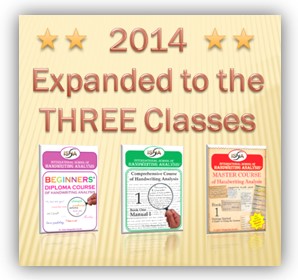 Because of the great success of the program and the large number of students wanting to enroll, the KAROHS -Maranatha graphology program will be expanded to three classes for the Fall Semester of 2014: one Beginners', one Comprehensive and one Masters' course class.
ISHA training seminars for faculty members from 6 Indonesian universities
Word of our successful KAROHS – Maranatha graphology program has spread quickly to other universities. Because faculty members from the various Psychology Departments were eager to enroll in our classes and seminars, Mr. Aviv has presented classes and seminars to Psychology Department faculty members from various Indonesian universities, among them:
Maranatha Christian University (UKM) Bandung,

University Padjadajaran (UNPAD) Bandung,

Bandung Islamic University (Unisba),

Jenderal Achmad Yani University (UNJANI) Cimahi,

University Tarumanegara Jakarta,

Bali's Udayana University, and other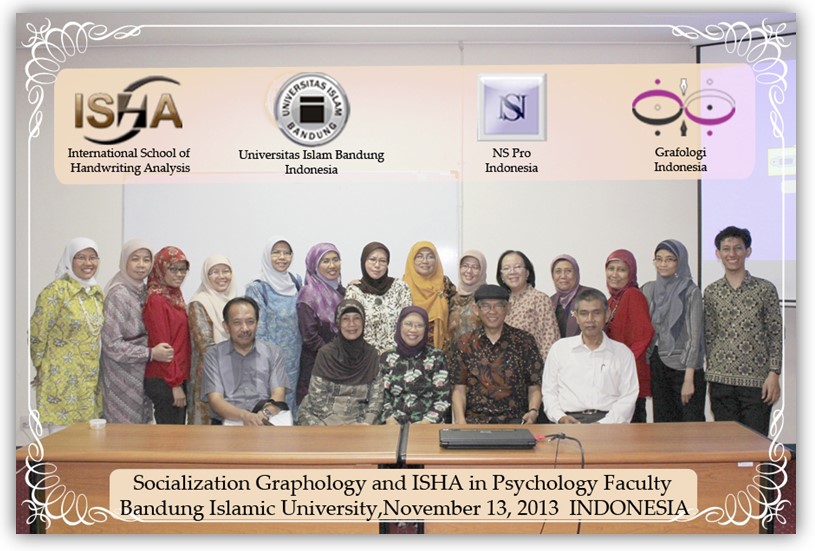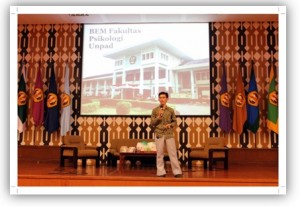 ---
Indonesian Press reporting about ISHA – Maranatha graphology program
On July 29, 2013, KONTAN, the most influential Indonesian business newspaper, in a full-page article about graphology, specifically stressed the importance of ISHA courses being included into the Psychology Department of Maranatha University.
In closing, the article cited Mr. Aviv's wish to see graphology as part of the curriculum of the Psychology Department of all Indonesian universities. In light of the rapid expansion of ISHA in Indonesia overall, the growth of the KAROHS – Maranatha program, the enthusiasm of Maranatha's steadily growing student body, and the interest of other universities in a similar program, Mr. Aviv's wish seems very realistic and achievable.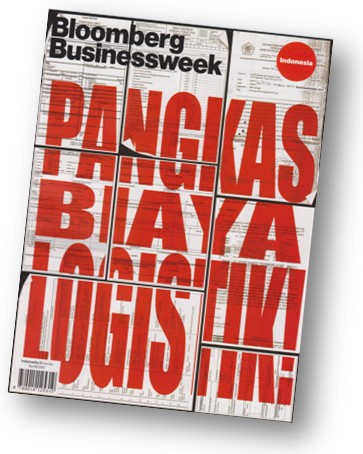 Seminars to Indonesian corporations
The increasing number of requests for consultations and seminars shows that ISHA's reputation and influence is growing not only in the academic, but in the corporate world as well. During the past months, Mr. Aviv and his team have given presentations to many important businesses and organizations, among them:
Biro Inovasi & Pelayanan Psikologi Bandung

Biro Psikologi Nimpoeno Soetardjo

Blue Omega Consulting

Bank Bumi Artha Graha

Green House Music Lab Studio

KAP Tanubrata Sutanto Fahmi S& Rekan

One Spirit Consulting

PT. Agung Sedayu Group

PT. Lutan Edukasi

PT. Pakuwon

RS. Hassan Sadikin Bandung

RS. Siloam Hospitals Surabaya

SGU Indonesia

SMAN 1 Ciasem Subang

Spirit Psychology Consulting

Universitas Airlangga Surabaya

Universitas Bunda Mulia Jakarta

Universitas Diponegoro Semarang

Universitas Gajah Mada (UGM) Yogya

Universitas Islam Bandung (UNISBA)

Universitas Jendral Sudriman (Unjani) Cimahi

Universitas Padjadjaran (UNPAD) Bandung

Universitas Pendidikan Indonesia (UPI) Bandung

Universitas Kristen Maranatha (UKM) Bandung

Universitas Kebangsaan Malaysia

Universitas Udayana Bali

Yayasan Fantasia Kindergarden Jakarta

Yayasan Terang Bagi Sejahtera Bangsa Jakarta
And many more…

KAROHS seminars in HONGKONG
On September 14 and 15 Sept 2013, more than 30 enthusiastic participants attended our handwriting analysis seminar in Hongkong.
KAROHS events in Malaysia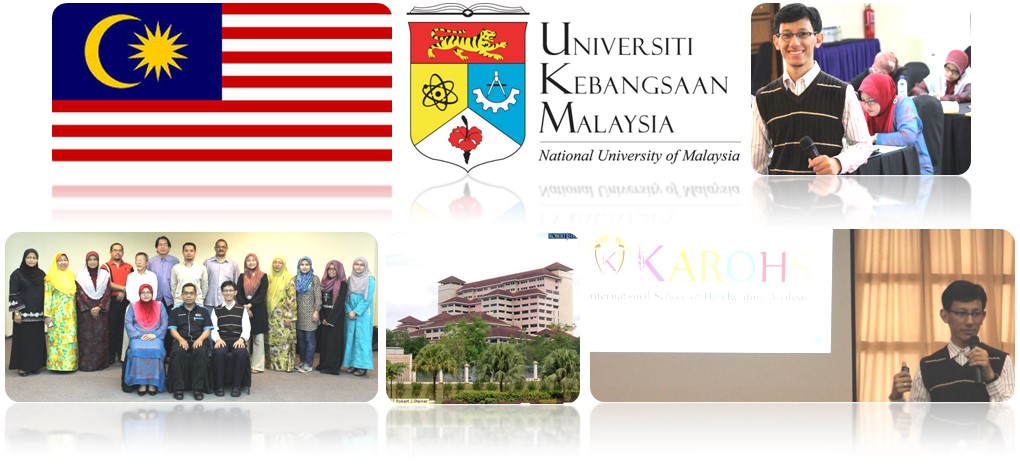 On 18-19 January2014, more than 15 eager attendees joined us for our handwriting analysis seminar in Malaysia. The event was held at the "University Kebangsaan Malaysia."
KAROHS Around the World
Argentina

Australia

Bahrain

Belgium

Belize

Brasil

Canada

China

Croatia

Czech Republic

France

Germany

Hongkong

India

Indonesia

Italy

Malaysia

Mexico

New Zealand

Norway

Philippines

Poland

Romania

Russia

Singapore

Slowakia

South Africa

Spain

Sweden

Switzerland

United Kingdom

United Arab Emirates

US

Philipines

Qatar

Pakistan

Zimbabwe

Ireland

Scotland

Austria

Bahamas

Bangladesh

Israel

Uganda

Saudi Arabia
Since the establishment of the KAROHS International School of Handwriting Analysis®, South African students have been a very active component of the school's student body.
Warehouse
A look behind the scenes into "Aviv's Warehouse"!
Here Aviv's helpers are busily packaging study materials – color-coded according to individual courses. Our students keep telling us how impressed they are with the huge packages they receive. Aside from the study materials they usually receive nice surprises and bonuses.

About Us KAROHS International School of Handwriting Analysis
---
Do you know, you can get SPECIAL PRICE when you enroll in our Special Pack Course Program?  See more here:  Price Information
Quick Link:
 FAQ (Frequently Asked Question)   Price Information   Registration Process : How to Enroll   TESTIMONY : What Student Says about the Courses   Back to COURSES Information 
See detail courses programs (click the image below):
Copyright © 2014 the KAROHS International School of Handwriting Analysis®. All rights reserved.
No image or portion of this website may be copied or reproduced without written permission.